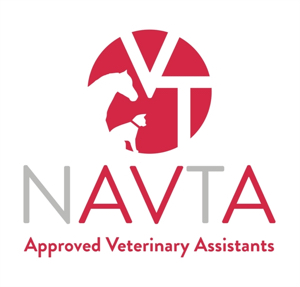 The Approved Veterinary Assistant designation is a nationally recognized designation created by the National Association of Veterinary Technicians in America.
Upon graduation from a NAVTA approved veterinary assistant program, a participant is eligible to sit for the Approved Veterinary Assistant examination. Veterinary assistants that successfully complete the exam receive a documenting certificate and are entitled to use the designation AVA (Approved Veterinary Assistant).
Find an Approved Training Program
In order to be eligible to take the Approved Veterinary Assistant designation examination, candidates must complete a NAVTA approved training program. With successful completion of the exam, individuals will become an Approved Veterinary Assistant (AVA) and be recognized for their accomplishment with the AVA designation.
The veterinary assistant examinations will be issued in partnership with VetMedTeam. There is a $100 fee per student to take the exam.
The designation examination is through VetMedTeam, on behalf of NAVTA, and is open to all graduates of a NAVTA approved training program. In order to qualify to sit the final exam, participants must obtain a code from their assistant program, which would be used in the VetMedTeam shopping cart. An exam mentor will need to proctor the examination by observing the candidate as the exam is taken. The exam mentor may be a veterinarian, a credentialed technician, an instructor from the student's program, or a licensed testing center.
Visit VetMedTeam for more information.
VetMedTeam facilitates the renewal process. Any renewal questions should be directed to VetMedTeam.
VetMedTeam emails courtesy reminders to all AVA's as their expiration date nears. Please ensure your VetMedTeam member profile is current with an active email address.
To renew your Approval status, you must complete at least ten (10) hours of Veterinary Continuing Education.
NAVTA does not permit extensions beyond the final expiration date. Individuals wishing to renew after the expiration date of their designation will be required to pay an increased fee and may be required to retake the AVA examination.
Have questions? Contact VetMed Team.